40-year anniversary
of the dedication of the house of God
at the Mission Center in Krefeld
With great thankfulness we solemnly remembered the dedication of the house of God 40 years ago on April 5th and 6th here at the International Mission Center in Krefeld.
To the anniversary celebration about 1,300 believers came from 23 countries. The two services were translated simultaneously into 12 languages and were followed by several thousand people in 172 countries via the Internet. After the Sunday service 22 people who became believers were baptized as in the book of Acts by a single immersion in the Name of the Lord Jesus Christ.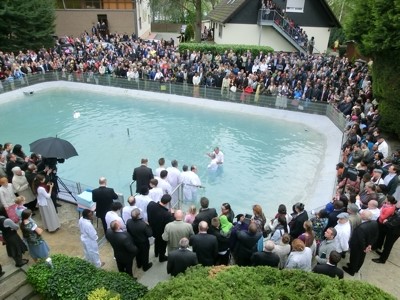 At the first weekend of every month hundreds of believers participate in the meetings at the Mission Center. By now the audience rate via the Internet has reached 1,250 connections. Furthermore thousands of believers all around the world are being served from here and receive biblical literature, CDs and DVDs.
In the past five decades the faithful Lord has taken care that His pure and unfalsified Word reaches the ends of the world. The spiritual food for this time is handed to the children of God upon the table of the Lord. He has promised to be with us until the end of the world. As soon as the last ones are added, the Bridegroom will take His prepared Bride Church into glory. He calls out to us: "Behold, I come quickly!"